Priori Idebenone Complex Superceuticals® Even Tones
New Improved Technology
Idebenone Superceuticals® Complex - The Most Powerful Anti-Aging Antioxidant

Corrects the signs of aging and also offers the highest protection against harmful environmental free radical stress with an Environmental Protection Factor of EPF 95, the highest rating of all antioxidants tested.

Priori Idebenone Complex Even Tones
The new benchmark for even skin tone. Even Tones is the first-ever skin clarifying product to combine Idebenone Complex with the botanical agent Methyl Gentisate to visibly reduce the appearance of uneven skin tones for dramatic results.
Size: 30 ml

Benefits:

- Antioxidant / anti-aging
- De-pigmentation
- Soothing, Calming, Anti-inflammatory
- Exfoliation/deep dermal penetration
- Vitamin enriched
- Superior silky smooth

Directions:

Suitable for all skin types, especially sun damaged and pigmented. For best results, use with PRIORI® Moisturizing Facial Cream and Radical Defense.

Ideal for people who have reached a plateau with their current skincare regime and want more.
It is recommened that you follow the Priori Advanced AHA regime for three to six months and then gradually introduce your skin to Idebenone product for maximum benefit.

Apply a small amount to face, neck, hands, and body, and thoroughly massage into skin.
Use once or twice daily.

Allow to dry before applying Prior moisturising facial cream.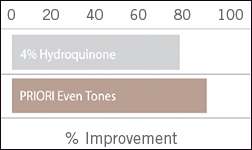 97% improvement in skin pigmentation. More effective than prescription strength Hydroquinone. Not only improves visible pigmentation but also improves developing non-visible pigmentation.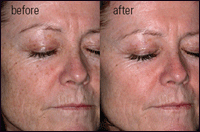 Comparison to prescription strength 4% Hydroquinone for Even Skin Tones (8 weeks, double blind, twice daily use, dermatologist expert grader evaluation, 10 subjects)

Precaution
Do not use if pregnant - this product contains Retinol

Not for hyper sensitve skin types.
It is important to allow the skin to acclimate to Idebenone products, introduce products progressively. On any sign of irritation reduce frequency of use until the skin acclimates.

Contra-indications: Do not use if you have a known sensitivity to Hydroquinone, Co Enzyme Q10, hair dyes or related quinine.

Products that contain Alpha Hydroxy Acids (AHA's) may cause initial flaking, tingling or irriation to the skin. For some this may be part of the normal resurfacing process.This generally improves as the skin 'gets used' to the treatment. AHA products may be introduced with less frequent use, and application can be increased as the skin acclimates. At first start by gradually introducing one AHA product at a time into your skincare regime.
Discontinue use if you have severe redness, itching, burning, rash, swelling or blistering.

It is recommended to apply a sunscreen daily when using products that contain Alpha Hydroxy acids (AHA's).